I've long had an aversion to public appearances or performances-- no matter what pills I took to chill me out, I'd be a mess in front of an audience. As a nail who during formative years stuck way up & got hammered way down, the idea of being the center of attention hasn't subsequently appealed to me. During a live interview I conducted with Brian Boyles a couple years back, though it really wasn't at all even about me, I still sweat through an undershirt, a dress shirt, and the jacket of my seersucker-- it was fucking disgusting.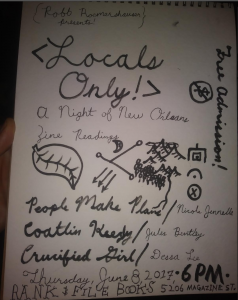 I've been trying to get better about this, so I did a couple of readings recently, both of my fiction.
One, in early April, was an entry in the Ninth Ward's venerable Blood Jet series where I read alongside novelist George Bishop, and the other, in early June, was a 'zine reading with a number of other zinesters I admire: Robb Roemershauser (who organized the reading), Nicole Jenelle, and Coatlin Keezly, who continues to churn out work that's low in profile and exceptionally high in qualitative density. If Keezly ever gets bored with being revered only within a relatively small circle of acquaintances and political actors, she will be one of the biggest deals to come out of post-post-K New Orleans.
At this second event I debuted Seditious Acts, a new chapbook/zine that some comrades put together and published. It's a compilation of some of my recent essays about the post-K political landscape, with a new introduction I wrote for the occasion, meant as a sort of primer for those newer to town or out-of-town-- anyone curious about anti-fascist resistance in New Orleans.
Both events were satisfyingly well-attended, and I'm pleased to report (especially given my rather limited wardrobe) that I barely sweat at all. I still don't like public speaking, but there are perhaps some dreads, like some allergies, one eventually just ages out of.
My writing on the racist violence of New Orleans police and new resistance by young people of color appears (in Spanish) in a recent collection from Argentinian publisher Tinta Limón, Nuevo Activismo Negro. Buy a copy here or here if you'd like.
The May 23 Gambit cover story was my in-depth profile of self-made local hero Luke Hawx. I don't have to like or respect someone (as I do Hawx) to get a good interview out of them; in fact, it's often more fun when there's disagreement. In Hawx's case, however, his blunt honesty and extremely compelling personal narrative speak for themselves. The Gambit's photo and graphics team also knocked this out of the park. I've quit trying to save print copies of publications in which my work appeared-- my housing situation has been variable & precarious the past several months, plus I just can't be bothered with more stuff-- but the print edition of that Gambit is so gloriously laid-out that I had to squirrel one away. I would refer you to the PDF version of it to appreciate the five-star visuals.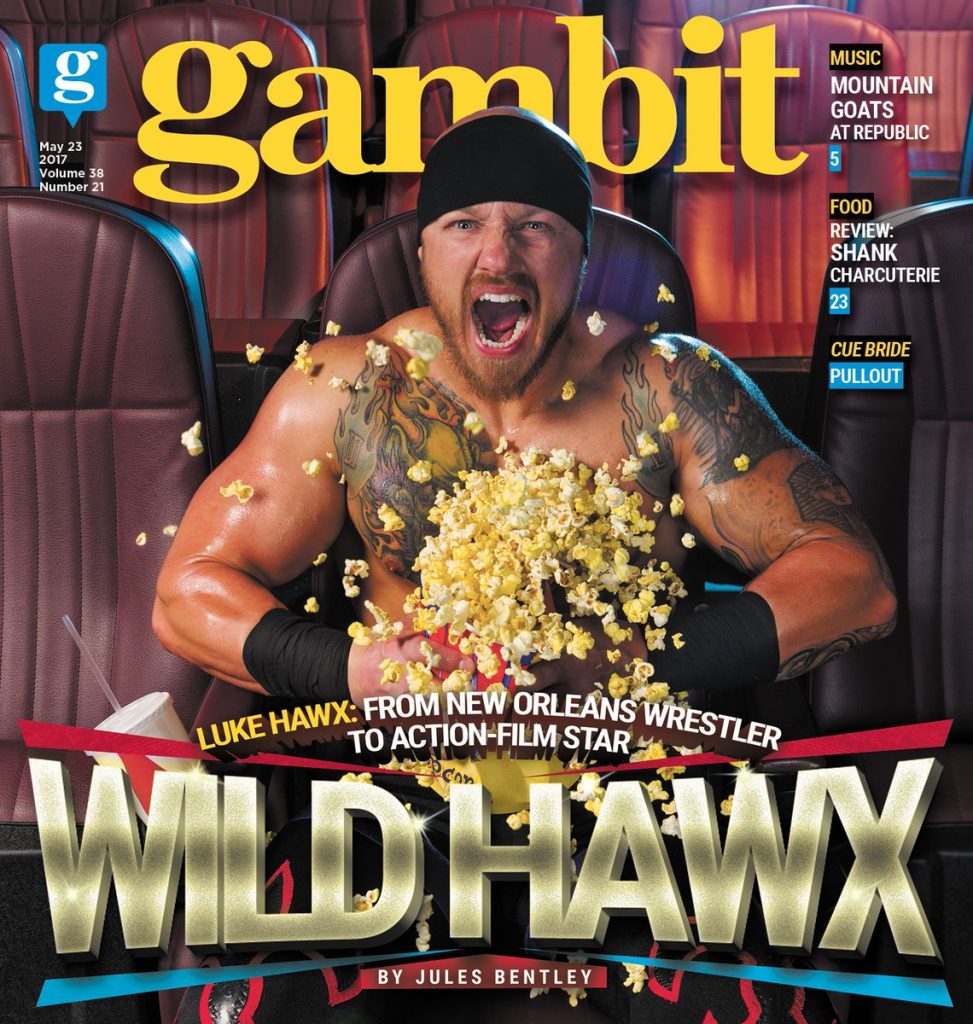 I am working on more, new, longer-form fiction, and also a tan so enviable that it will cost me friends. They will all choke on their jealousy: lovers, comrades, casual pals, friendly neighbors who only know me by sight. I aspire to a tan so profound that it interferes with my personal life, a tan that isolates me, a tan that inspires insurmountable antisocial resentment among the less tan, a subgroup which will encompass all anglos. Summer is here, and that's 100% fine with me.