My god, it's a good thing I am so young, so fit and tireless-- that I am basically an Olympian.
There is a huge slate of events and occurrences which I'd like to draw your attention to.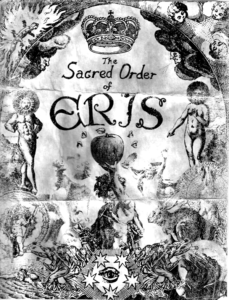 On Saturday, June 11 I will be attending (and urge you to also attend) an Eris Benefit Variety Show. Learn more at the Eris Parade Arrestee Aid website! This will be filthy and fun. I will not actually be reading or... performing... but it's a very good cause.
I will however be the somewhat uncomfortable center of some attention that morning (Saturday June 11), delivering the keynote address at the June meeting of the Gillespie Memorial Community Breakfast.
The subject I've been asked to speak on is the recent closure and re-opening of the Iron Rail Book Collective. There will also be a brief background provided on the (late twentieth-century portion of the) history of subversive literarture distro in New Orleans. That-- the local history aspect-- is of great interest to me; I am beginning work on a larger, informal study of the subject, generously assisted by those who were present at the time.
On June 28th, I will be attending another 'zine reading, this time reading & unveiling the long-unawaited nonservi.am/002. I'll provide more details when I have them.
Speaking of second issues, I have two pieces in the brilliant and visually irresistible Issue 2 of the Raging Pelican, available now all over (or by mailorder). One piece is the full version of my interview with the founders of Eris, and the other is a local historical nonfiction piece on the Bizarre Case of Dr. Victor Alexander. Enjoy!
An updated, truncated & generally much-improved edition of my article "New Orleans, No Lifeguard on Duty" can be found in the new, Summer 2011 print & web editions of Slingshot.
I feel there may be some other event or news I'm overlooking... but surely the above is the absolute limit a wilting, senescent literary aesthete such as myself can stand in so short a time...