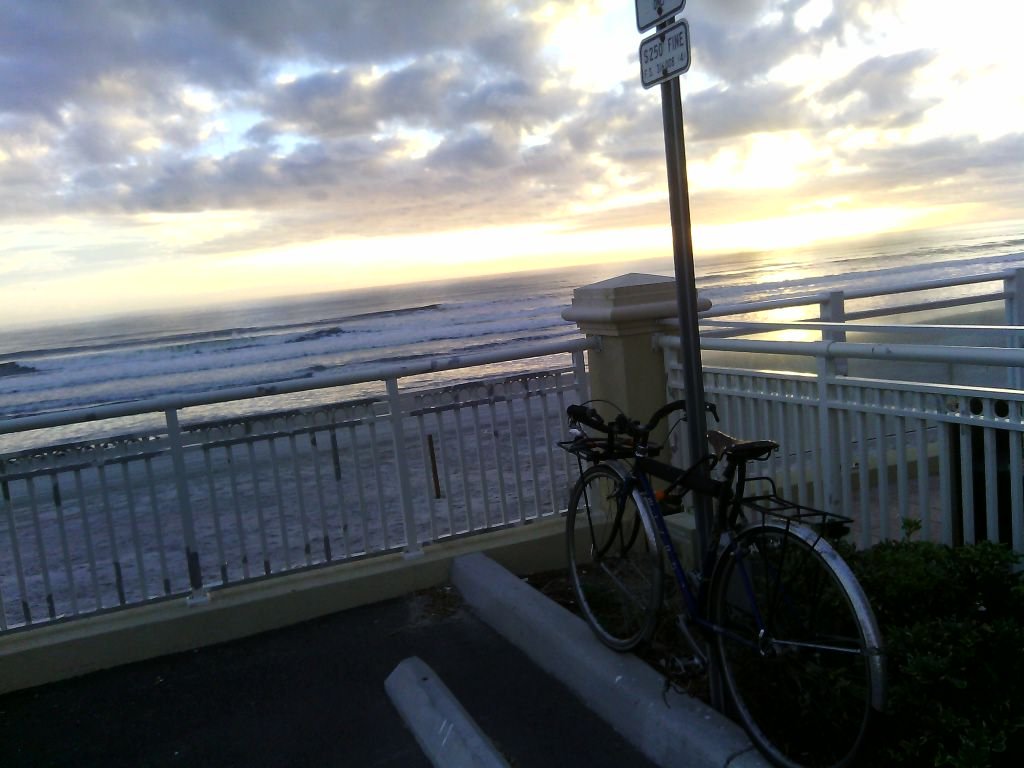 Buds are budding; I recently had occasion to cut my Dickies down to nice sassy booty-short length. The winter, which I dislike, is fading.
It was warm enough in Daytona Beach last weekend that my intern and I were able to swim in the Atlantic. I was there for VICE Sports to report on the Daytona 500. I used to live in Florida, and always liked it-- the biome, the people, the vibes. New Orleans has lately a lot of people arriving from the Bay Area and outer boroughs of New York City. As domestic immigrants go, I find I prefer those from Florida and Texas.
If you'd rather not read my thoughts on the Daytona 500, you can also have them read to you; some blogger in Toronto was moved to create an audio version.
I've written a few more pieces for Antigravity. I contributed a eulogy for the "blogstaurant" Booty's, which eulogy may or may not have functioned as the gelatin capsule enclosing a big dose of anti-capitalist vitriol. I also counseled the wearing of masks given the current surveillance climate and provided a year-end list of Premium Vapes.
Over at the Gambit, I conducted a gratifyingly spicy interview with Nyx of Total War Puppets and reviewed a "Virtual Mardi Gras Parade."
I tap out this blog entry from my newest writing space, a treehouse built out of old windows behind a collapsing Mad-Max-esque compound. After rent on the Brown Study doubled-- rendering it unaffordable-- I was very fortunate to land this spot at a rate I could afford. Working in a glass box is interesting. The residents of the compound, though they evince almost total indifference to the intriguing white ape occupying their backyard terrarium, could if they were so inclined look at me any time they liked. In fact, when they are in their backyard or the rear balcony on which they smoke, they must strive NOT to look at me. I find this funny, because I a.) like ridiculous situations and b.) am rather vain.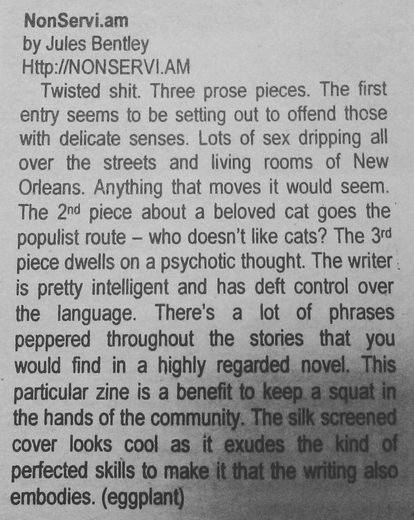 How unmistakably imminently the cobbled-together treehouse is destined to fall down or catch fire inspires me to work harder than I normally would-- I must make the most of this space before entropy reclaims it and/or the entire city block is refashioned into condo townhouses. Every time I lose another New Orleans writing space I wonder: is this when I finally retreat into the swamp and leave city life behind forever?
Back in December I had the pleasure of contributing to the 14th Annual New Orleans Bookfair, and did some press around the event. The website "NOLAVie" ran a brief, humorous profile of me and I got to talk with my favorite radio station, WRBH. Enduring my moist, adenoidal voice for even this short duration may give you some insight into the pain I experience when obligated to transcribe audio of myself interviewing others.
Maximum RocknRoll and Slingshot both positively reviewed my zine nonservi.am. Copies still available... hollerrrrrrr.